According to FEMA, effective hazard mitigation requires that we all understand local risks, address the hard choices, and invest in long-term community well-being. Without such actions, we ultimately put our safety, financial well-being and self-reliance at risk. And, that's not something that any of us what to do inadvertently by not having a current, FEMA-approved hazard mitigation plan (HMP). Fortunately, help is available, and at a much lower cost than you probably expect.  BOLDplanning is well-versed in the development and updating of HMPs for state, local and tribal governments across the country.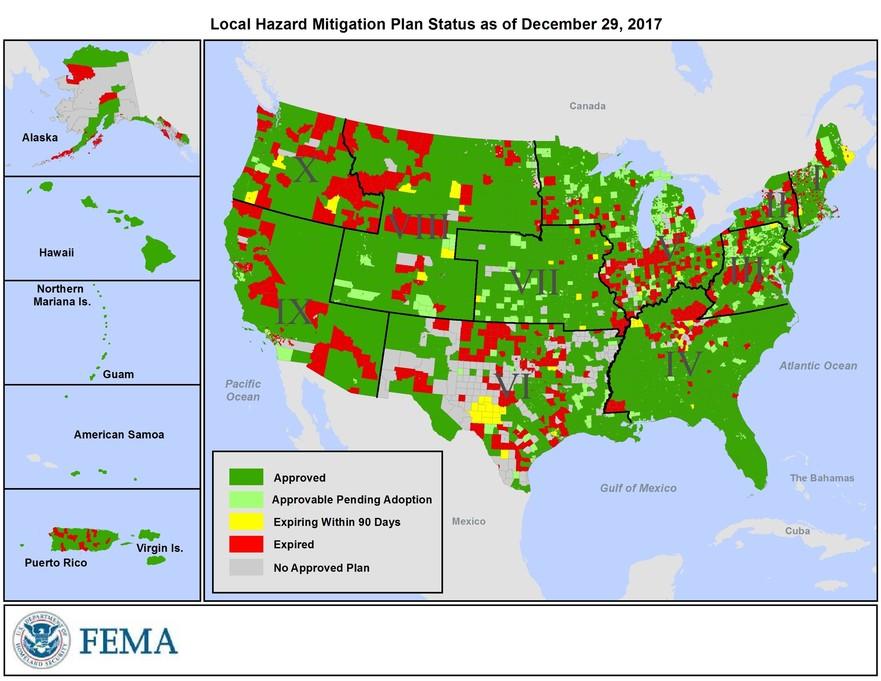 On December 29, 2017, FEMA reported that all 50 states, the District of Columbia, and five territories (Guam, American Samoa, Northern Mariana Islands, Puerto Rico, and the U.S. Virgin Islands have agency-approved state mitigation plans. A total of 20,553 local governments have current (FEMA-approved or approvable-pending-adoption) local mitigation plans, and an additional 53 tribal governments have current tribal mitigation plans. These numbers equate to over 83 percent of the nation's population living in communities with current mitigation plans. That's good news.
But, where does this leave the other 17 percent? Most likely in need of assistance. And, sooner rather than later. Why?
Reason 1: Disasters can occur at any time and at any location, and their financial consequences are near impossible to predict.
Reason 2: Yearly disasters are steadily on the rise, but only 50% of these events trigger Federal assistance.
Reason 3: FEMA's mitigation programs help reduce the impact of events—and our dependence on taxpayers and the Treasury for disaster relief.
As FEMA continually emphasizes, effective hazard mitigation helps create safer and stronger communities, thereby reducing loss of life and property during natural (and even human-caused) disasters. It lessens the financial impact on individuals, communities, and society as a whole by making you eligible to receive certain non-emergency FEMA grants. And, it specifically allows individuals to minimize post-flood disaster disruptions more rapidly. Just this week, Cincinnati, Ohio officials declared a state of emergency, opening property owners to possible FEMA assistance.
Want to find out more about grant programs, national flood insurance, earthquake hazard reduction programs, building science, environment and historic preservation, and other important mitigation-related topics? Check out these mitigation fact sheets from FEMA.
Also, familiarize yourself with BOLDplanning. The company has been a leader in hazard mitigation planning since the enactment of the Disaster Mitigation Act of 2000 (DMA2000). Our growing team of qualified experts possesses years of practical experience having led hundreds of jurisdictions through the plan development and FEMA review process. We can do the same for you, helping you better understand your local risks, address the hard choices and invest in community well-being for the long term. And, we can most assuredly do so within your budget.
Learn more now by downloading BOLDplanning's White Paper, Seven Key Reasons You Need a Current & Rock-Solid Hazard Mitigation Plan. It's a quick, but highly beneficial read. Next, contact BOLDplanning via email at info@BOLDplanning.com or call the company directly at 615.469.5558. We're ready and happy to help with all your mitigation needs.